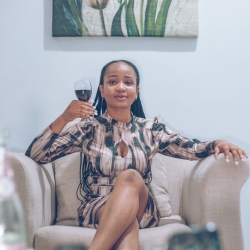 I am a podcaster, writer, youtuber and entrepreneur. I am passionate about personal and mental development and a woman rights activist. I host a weekly podcast
Interests
World and society
Education, Science and Culture
Personal development
Marketing and strategy
Businesses and sectors
History and Beliefs
Faith and religion
History and humanities
Family
Children and family
Couple and relationships
Fitness
Lifestyle
Mind and psychology
I am Somaa Chukwu. I am a podcaster, youtuber, writer and entrepreneur. I own my own clothing brand "The Nudist Boutique" and I am also a graphics and website designer. I am the sole host of a weekly podcast "Unmask It" where problems that affect us on a daily basis are analyzed and solutions offered. What this podcast strives to achieve is to create a safe haven for everyone. I am on this platform to find like minded people and experts in different walks of life.
Professional. Soundproof room, good microphone, total audio control.
Good resolution (1080, 4k or higher)
My internet is one of the best. I never have outages or lag.
Only registered users can use the contact form.
Podcasts from the same user
Unmask It
Unmask It is a platform where we unmask problems affecting us in our daily lives and provide solutions to these numerous...