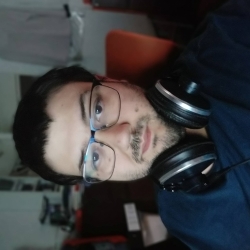 Experto en cine, adorador de nuevas tecnologías y geek de tomo y lomo.
Interests
Politics, diplomacy and government
World and society
Anime and manga
Film and TV
Video games
Computers
Aficionado a los juegos de mesa, rool y videojuegos desde temprana edad, empeze estudiando Historia en la universidad para acabar terminando la diplomatura de Cine y Medios Audiovisuales en la universidad de Londres. Adicto a la política y las noticias internacionales, soy residente en el Reino Unido desde hace 17 años. Tengo experiencia trabajando en Pequeñas productoras de televisión y radio, asi como varios años de Podcasting a mis espaldas en temas de cine, televisión, comics y videojuegos.
Ahora mismo uso Twitch para emitir en directo y Ivoox para mis podcasts. 
Siempre dispuesto a buscar nuevos colaboradores que me yuden a explorar nuevas rutas o que den profundidad a mis podcasts. Tambien me gustaria colaborar con otros podcast para poder abrir mas mis horizontes.
Professional. Soundproof room, good microphone, total audio control.
Good resolution (1080, 4k or higher)
My internet is one of the best. I never have outages or lag.
Only registered users can use the contact form.