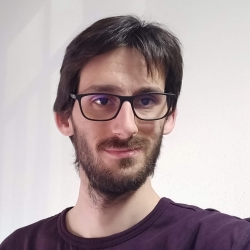 Ingeniero en Mecatrónica desorientado. Actualmente Desarrollador Full Stack Drupal
Interests
Company and business
Entrepreneurship
Online World
Soy un ingeniero que, por cosas de la vida, ha acabado en el mundo online.
Desde hace años soy desarrollador freelance especializado en Drupal.
Entre otras cosas me considero un multipotencial emprendedor. He creado distintos proyectos en el mundo online, la mayoría de los cuales son portales web.
Aunque actualmente he de seguir trabajando como programador freelance porque mis proyectos no me permiten "retirarme".
Entre los proyectos que no se definen como "webs" destacan un intento de podcast y un canal de youtube. Estos dos proyectos son el motivo de crear el perfil en esta web, ya que me encantaría hacer colaboraciones con otros youtubers/podcasters.
Y por si no lo has notado, también soy el creador de WebiCaster, uno de mis últimos Side Projects que espero que ayude a muchas personas como tu y como yo.
Decent. Hardly any background noise.
Good resolution (1080, 4k or higher)
I have decent internet. I usually have no problems with video conferencing.
Only registered users can use the contact form.