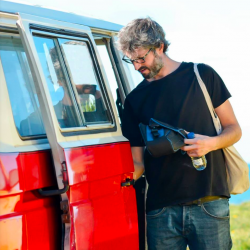 Vivo viajando en mi sexta furgoneta camper. Trabajo online en cosas que no sabía hacer en 2019.
Mi nombre es Iñigo Mendia y después de dos años en Australia donde tuve varias furgonetas camper (y viví en una de ellas) decidí abrir mi casa en Couchsurfing y hospedar a más de 60 personas a lo largo de 2016 y 2017.
Gracias a esas personas decidí dejarlo todo (de nuevo) y irme a vivir viajando por Europa en mi furgo intentando aprender cosas para ganarme la vida de esta forma. Año y medio más tarde lo conseguí.
Tengo 5 podcast, un libro, una plataforma para hacer publicidad a talleres y varias cosillas más. Me ayudan varias personas de otras partes del mundo a editar podcast, videos, contactar con colaboradores, publicar en TODAS las redes sociales...
Me podéis encontrar como Viajando Simple en todos los lados o conocerme un poco mejor en este documental que me grabaron:
https://viajandosimple.com/documental
Professional. Soundproof room, good microphone, total audio control.
Decent resolution of 720px
I have decent internet. I usually have no problems with video conferencing.
Only registered users can use the contact form.