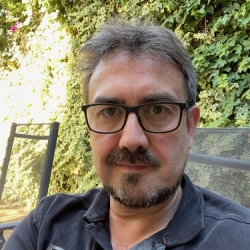 Culo inquieto por naturaleza, ahora de cabeza en el podcasting y herramientas no-code
Interests
Rugby
Hiking and Alpinism
Entrepreneurship
Blues and Jazz
Film and TV
Apple
Trabajando en temas relacionados con IT desde 1986, con alternancias en el mundo de las ONG trabajando con Médicos Sin Fronteras. Co-Fundador de Nocodemy.co, comunidad de habla hispana sobre el no-code ; conductor del podcast en castellano sobre IA "Saludos, Profesor Falken"; y maquinando con qué más lleno mi más que exiguo tiempo diario.
Decent. Hardly any background noise.
Decent resolution of 720px
I have decent internet. I usually have no problems with video conferencing.
Only registered users can use the contact form.
Podcasts from the same user
Lo hacemos fácil
Acompáñame en este viaje para crear y lanzar un producto tecnológico sin saber programar
Saludos, Profesor Falken
Podcast de noticias sobre Inteligencia Artificial en un lenguaje que entendamos los que no somos ni Ada Lovelace ni...