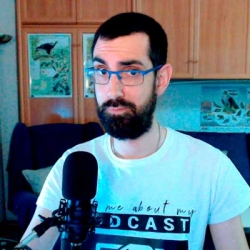 Ambientólogo, técnico de consultoría ambiental y podcaster.
Interests
News and events
Science and nature
Online World
Marketing and strategy
MetaPodcast
Mi nombre es Enoc Martínez, soy Ambientólogo (Licenciado en Ciencias Ambientales, que no es lo mismo que ecologista), técnico de Consultoría Ambiental y podcaster.
He trabajado en muchos sectores pero principalmente en informática, a nivel de servicio técnico y reparación de equipos. Y posteriormente más ligado al Medio Ambiente, desde la consultoría ambiental realizando Evaluación de Impacto Ambiental, estudios de suelos contaminados, residuos, etc.
En la actualidad tengo varios podcast de temática ambiental y me encantaría participar en tu podcast si buscas a alguien que sepa del tema y no le importe meterse en temáticas espinosa y controvertidas.
Decent. Hardly any background noise.
Good resolution (1080, 4k or higher)
My internet is one of the best. I never have outages or lag.
Only registered users can use the contact form.
Podcasts from the same user