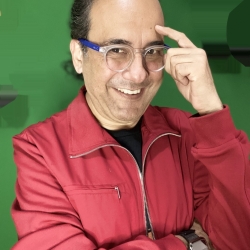 Tecnología aplicada al marketing y a la comedia
Interests
Education, Science and Culture
Online World
Marketing and strategy
Humor and comedy
Hola!! soy Antonio. Tengo dos podcast sobre intereses personales y profesionales.
ASalgado media Podcast: donde hablo sobre tecnologías y  otras artes aplicadas a la comunicación digital. Normalmente hago entrevistas a abogados, otros tecnólogos o áreas que considero pueden complementar tus estrategias.
DocLeiner que es mi podcast sobre tecnología aplicada a la comedia. Hablo sobre apps móviles o servicios que pueden ayudarte a escribir, administrar rutinas de comedia o inclusive ayudarte a presentarte virtualmente.
Me gustaría tener más invitados en ambos shows.
Professional. Soundproof room, good microphone, total audio control.
Decent resolution of 720px
I have decent internet. I usually have no problems with video conferencing.
Only registered users can use the contact form.
Podcasts from the same user