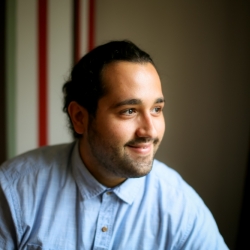 En UK. Creador del blog La Siesta Inglesa, cocreador del Podcast Webificando. Software developer. Ingeniero de Sistemas Audiovisuales. Música. Teatro.
Interests
Online World
Music
Leisure and entertainment
En una humilde morada de Castelldefels nace nuestro protagonista, es decir yo. Entre cajas de Coca Colas y Estrella Damm, jugaba y hacía los deberes, utilizaba a los clientes del restaurante en el Masnou como profesores externos para continuar su aprendizaje, o procrastinar los deberes del colegio, y ahí aprendió lo que se le da mejor: procrastinar.
Aún haciendo música, teatro, política, radio, trabajando en el restaurante, etc etc etc, consiguió acabar la carrera de ingeniería de sistemas audiovisuales y telecomunicación, para luego NO acabar dedicándose a eso. Obviamente, su camino se movió a la intrusión del mundo de la programación, ya que es lo que el mundo laboral le pedía.
Sin gustarle la programación pero queriendo ser más guay, se puso a programar. Ahora, en Southampton, cuenta los días para jubilarse y tener todo el tiempo del mundo a su familia y sus proyectos: La Siesta Inglesa, un blog sobre Reino Unido, y Webificando, el podcast de side projects.
Decent. Hardly any background noise.
Good resolution (1080, 4k or higher)
I have decent internet. I usually have no problems with video conferencing.
Only registered users can use the contact form.