Spotify vs Youtube and Twitch. Now video podcasts
Spotify has been boosting its podcast section for a while now, and that was the main reason for its union with Anchor, as it bodes well for the podcast niche.
Now Spotify has announced through its official blog that the company announces this new video format, which will be integrated into both the mobile application, as well as the desktop, televisions, and even consoles. The concept does not have much mystery. Basically, in addition to being able to listen to podcasts as before, we will also be able to watch them. Of course, the video format depends on whether the podcaster wants to upload a video instead of just the audio.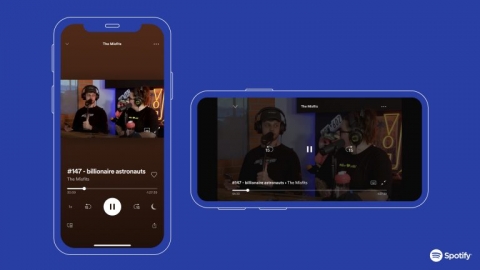 Spotify knows that there are a large number of people who consume podcast content on video, either on YouTube, or even Twitch. This new feature will give users the ability to watch their favorite shows on Spotify as well. And this seems to be the way they are trying to fight against these two big companies that occupy practically the entirety of podcast consumption in video format.
To play this type of content on Spotify, we can do it actively, that is, watching the video itself, or in the background, which means that we can also listen only to the audio of the episode. The company also encourages the use of its Anchor platform to upload the episodes for free.
Another interesting point of this feature is the monetization part. Creators will also be able to generate revenue from their video podcasts through Spotify subscriptions. This means that creators will have the ability to share exclusive content with their subscribers, and even add advertising to their content.
This is good news for content creators. Whether it's Twitch, YouTube, Spotify or premium podcast options like Mumbler.io. There are more and more options to monetize your podcast.
How does it work?
For creators to start publishing video podcasts on Spotify it looks like it will work solely through a login from Anchor. According to Spotify, Anchor is a perfect way for creators to upload video content and publish it on Spotify.
Ready to watch and listen? Here's how to find video content:
Open the Spotify mobile app.
Navigate to the show you're excited about and go to the episode page.
Click "Play" on a podcast episode.
Tap the play bar at the bottom of the screen to watch the video in full screen.
More video podcasts are coming soon to Spotify, so keep an ear and an eye on your favorite shows and creators.
Are you a podcast creator? Head over to the Anchor blog to learn more about the video podcasting feature.
Availability of this new feature
The Video Podcasts will progressively arrive on the platform, without a specific launch date. As for the subscription program, it is currently only available in the United States, although it will gradually reach more countries.